The reason that Public Relations is often ranked as one of the top stressful career fields in the country is, well… because it's stressful. Being in charge of accurately telling a brand or company's story in a way that pleases all stakeholders is like holding a tiny little bird in your hand; it takes care and patience, and if you let it get away from you too soon, it may die and you will be solely to blame. Sorry for the dark metaphor.
We don't mean to brag (yes we do), but our team has a knack for planning and implementing successful public relations campaigns, all without losing our minds. Here are a few of our top tips for surviving in PR:
Learn to pivot
Multitasking is the name of the game when it comes to public relations, and you either need to learn to love it or find a different career. You could be knee-deep in a press release that needs to go out tomorrow, but if a reporter from The Washington Post is (finally) calling you back and has an urgent interview request, it's time to pivot. You need to be comfortable with knowing that your day-to-day will never be the same, and something new will always pop up.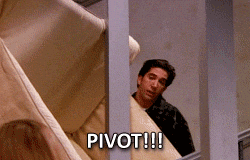 Stay Organized
Between juggling a heavy pitching schedule, coordinating countless interviews and TV/radio segments (or as we call it, "herding cats"), and making sure you don't pitch the same journalists twice, it is critical that you stay organized. Whether you create reminders in your calendar, make lists on the back of scrap paper, or have a beautifully-formatted Excel document, just make sure you have your "you know what" together at all times.
Unplug and Gain Perspective
Publicists are notoriously known for always being "on," and that can lead to added stress. Living and dying by the notifications on your email or never letting go of your phone because you're afraid you'll miss a reporter's call can get overwhelming. It's important to remember to schedule out time where you can unplug. Seriously, just put the phone down.
Also, it may seem like the end of the world if you accidentally spell a reporter's name wrong or forget to include an attachment, but at the end of the day try to gain a little perspective. If it helps, just remember: at least you didn't make a mistake while doing brain surgery.

Don't take "No" too personally
Getting an email from a producer that simply says "NOPE" certainly stings, but you have to remember that the media is busy and they aren't trying to be rude – hopefully. When you finally land a pitch it is a great feeling, so just remember that it will take a few "no" responses before you get the glorious "yes."
Additional free tip: Don't punch people
If someone says that your job is just "spin" or that all publicists do is walk around in heels and drink wine, you can fantasize about punching them, but you shouldn't actually do it.*

If you're in need of an expert PR team who has your back and who has their "you know what" together, reach out to us today.

* – Exceptions may apply for certain situations.**
** – 8THIRTYFOUR does not condone violence. We just joke about it sometimes.