International Women's Day is March 8th, and our team loves any excuse to celebrate the many contributions and successes of women. In the past we have highlighted local leading ladies and legendary women of history, but today we are putting a spotlight on badass fictional female characters who inspire us and make us want to pulverize the glass ceiling.
Here are the leading ladies that a few of our team members look to when channeling their inner badass:
Leslie Knope
Leslie is fiercely proud of where she comes from and brings (hilarious) passion into her work each and every day. If any of her friends or coworkers needs help with something she's there in minutes, without hesitation. She has a heart of gold and stops at nothing to accomplish her dreams.
One of the greatest things about Leslie is that she understands that she has faults. Although she can be overwhelming, annoyingly persistent, and unsure of when to let go, those around her cherish her and know her worth. Also, she loves waffles. Who doesn't love waffles?


https://giphy.com/gifs/parks-and-recreation-amy-poehler-2AilMg2L8rTAA
Olivia Pope
Romance plot aside, Olivia Pope is the ultimate political badass. She takes zero shit, she does the right thing (despite the consequences), and she trusts her gut. Not to mention, her beverage of choice is red wine, so we can obviously relate. Here are her top 10 badass moments to prove how great she is.


https://giphy.com/gifs/secret-name-meanings-CpxCYD0Or2Ty8
Elle Woods
Even though her journey to badassery starts by chasing a guy, Elle quickly finds herself and proves she doesn't need a man to complete her – she just needs to trust in her abilities. She studies extremely hard to get into law school, fights to gain a prestigious internship when none of her classmates believe she can land it, and takes on a massive case after unwanted advances from her professor. She's smart, she's funny, and she's a huge dog lover. What's not to love?


https://giphy.com/gifs/foxhomeent-reese-witherspoon-legally-blonde-xUA7b17osqXImEFJKM
Topanga Lawrence
Okay, it's a throwback, but how could you forget about Boy Meets World's confident brainiac, Topanga Lawrence? Topanga is a woman who never lets anyone else define her. She's smart, eccentric, and confident, and she always speaks her mind. Here's to the woman who inspired a generation of young viewers to stand up for themselves and for what they believe in.


Daenerys Targaryen
Let's be real: Daenerys Targaryen (a.k.a. Khaleesi, a.k.a. Mother Of Dragons, a.k.a. Breaker of Chains) is the most badass character in Game of Thrones. She doesn't take crap from anyone! She's ambitious, honest, and loyal. And if you try to cross her… Well, just don't.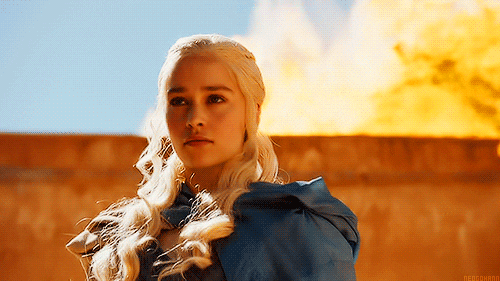 Fictional or non-fictional, we love celebrating the women who inspire us each and every day. This International Women's Day, take a moment and reflect on the
amazing women in your life
and those who have positively shaped the world we live in today.